Mikrobia
2020

Baum & Leahy collaboration with Greg Orrom Swan & Deborah Mora

Produced by Øyteateret
Written by Amalie Olesen


"Welcome to the theatrical symbiotic odyssey of Mikrobia: In a fantastic world, full of details, colors and unexpected formations, we travel through the Finnish forest, through the gut, through the apocalypse and reincarnation, and into a common future. The performance invites you into your own body's billion-metropolis of microorganisms in search of a relief from the crippling fear of the future that reigns over us. The performance is created in a meeting between drama, figurative theater, visual art and music. The scenography consists of the abstracted body of a tardigrade that has been enlarged a million times, and holds the entire performance. The composer plays live on stage, while the actors throw themselves into a shamanistic process in which humans possess microbes and vice versa." (by Øyteateret)

Mikrobia premiered at Vega Scene in Oslo on January 16th 2020. We developed the tentacular, interactive scenography for this human-microbe odyssé, which involved tasting blue spirulina, delving into an 'apocalypse mediation' and waking up for microbial rebirth, all encapsulated by a giant tardigrade-marionette.

The overhanging structure, designed and developed with Greg Orrom-Swan, is a giant marionette puppet of the microscopic tardigrade. It's a huge suspended, kinetic and tensile structure – lightweight, collapsable, and animatable. It uses a framework of re-used tent poles under tension covered in re-purposed ex-military parachute. Nearly all of the materials used in the scenography are recycled, recyclable or organic.

Mikrobia grew out of the collaborations of an international superorganism consisting of:

Amalie Olesen (playwright), Ellen Jerstad (director) and Andrea Skotland (dramaturg and producer) aka Øyteateret, co-creating performers Huy Le Vo, Kjersti Aas Stenby and Vincent Vernerie, Baum & Leahy (Amanda Baum and Rose Leahy) in collaboration with Greg Orrom Swan (scenography), Deborah Mora and Rob Walker (visual fx), and Sjur Miljeteig (composer).

Also thanks to Kristina Kjeldsberg (dramaturg), Elin A. Grinaker (dramaturg and translator), Benedikte Sandberg, Madeleine B. Herholdt, Madeleine F. Røseth (outer eye), Frida Bang Hansen (stage manager).

Thanks to microbiologist Arne Tronsmo, participants on early workshops and tests, and students from Lillestrøm vgs.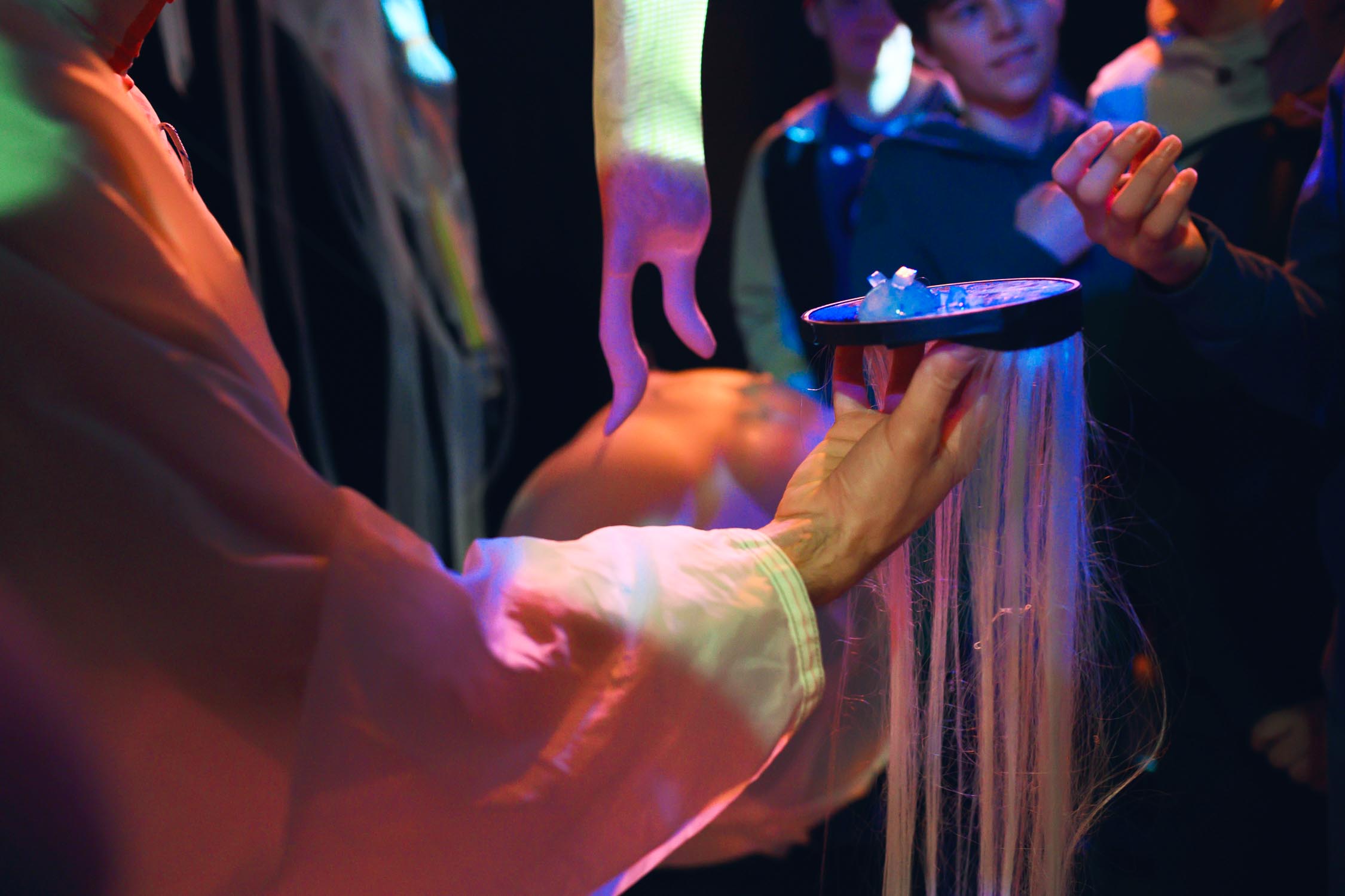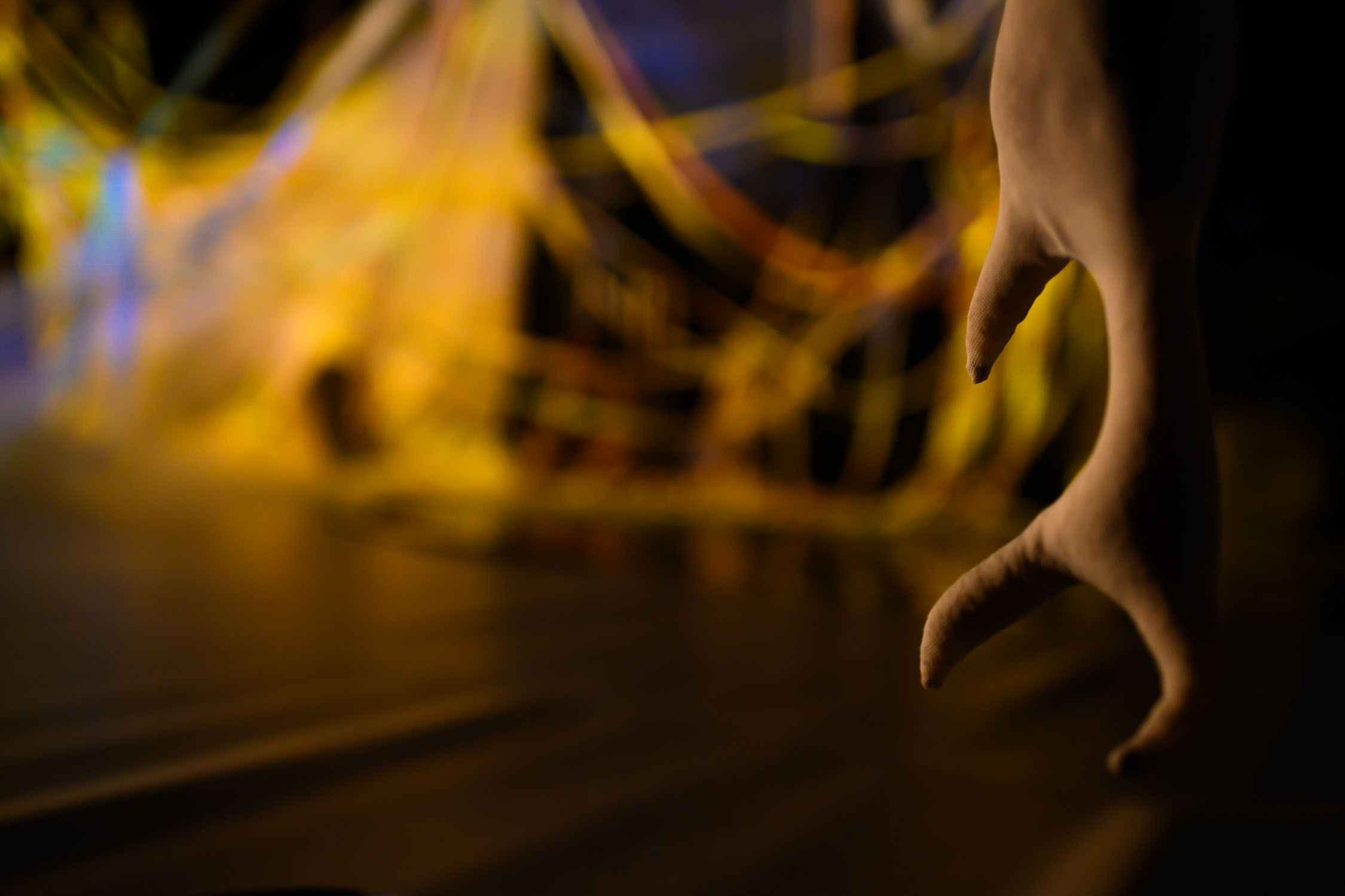 The poster is the fragments of a dream about moving around in microcosmic materiality. Signals and shapes seem interchangeable as the seemingly orderly world morphs into unpredictable formations. Elements from the poster - the nervous system of a tardigrade, guts, fluidity of the cellular and the planet, stretching tentacles and material diversity - all come to life on stage in Mikrobia.

Supported by Kultårrådet, Spenn, Dramatikkens Hus, Oslo Kommune, Nordisk Kulturfond